ABOUT US
Whatever its activities may be on any given day, it is Salt Spring Island Search and Rescue's privilege and primary goal to serve the citizens of the community.
Salt Spring Island Search and Rescue (SAR) was established in 1989 by Chuck Hamilton, a member of the RCMP auxiliary. Salt Spring Island SAR is directly tasked by the RCMP and operates under the Provincial Emergency Program (PEP).
We are staffed by a group of 30+ dedicated volunteers who train to find and help missing or lost individuals, as well as assist during natural disasters like forest fires, floods, and earthquakes.
We are responsible for ground searches, both wilderness and urban, as well as inland waters (lakes and rivers) and shorelines.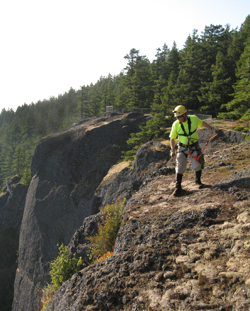 Our primary geographic responsibility is Salt Spring Island and the Southern Gulf Islands, which include Galiano, Mayne, Pender, and Saturna, as well as the 50+ smaller islands in this area. Combined, this area is over 348 square kilometers and is home to 14,750 residents. We also provide mutual aid to other SAR groups in British Columbia, as requested.
Salt Spring Island's Search and Rescue Society is a volunteer, non-profit organization. At the behest of the RCMP, the BC Ambulance Service or Coroner's Service, the CRD and the Ministry of Defense, the men and women of SSI SAR are trained to mobilize quickly and conduct whatever type of search or recovery the prevailing circumstances may call for.
In addition to ground search and rescue duties, SSI SAR's skills and experience include the following:
High Angle Ropes Rescue & Recovery
Tracking
Perimeter Security
Evidence Searches
Emergency Evacuation – Planning & Procedure
Traffic & Parking Co-ordination
Mutual Aid to other SAR teams